Follow us on
AMA Pro Road Racing - Road America June 3 - 5, 2011
Sunday: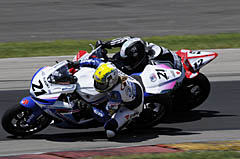 Another beautiful day at Road America. I don't think you could have asked for better conditions than we had today. The Supersport race was a great contest. Elena Myers put in one heck of a ride.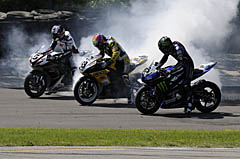 The Sportbike bike race had two red flags early on and Jason DiSalvo crashed out again. Neither red flag was related to DiSalvo's off.
In the Superbike race, once Josh Hayes took the lead he kept it. Some pretty good swapping of positions was happening behind.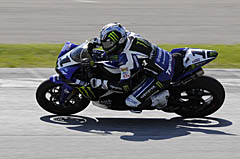 Results:
XR1200
Supersport Race 2
Sportbike Race 2
Superbike Race 2




Saturday:

Perfect weather, good people and great racing.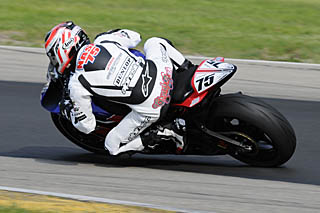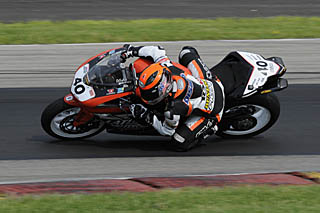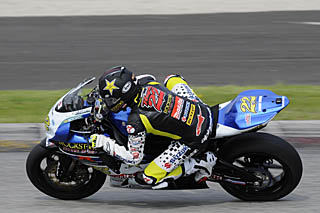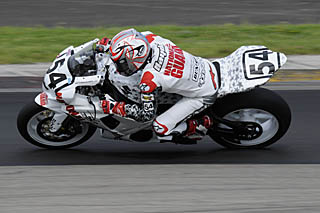 Results:
Superbike Race 1
SportBike Race 1
SuperSport Race 1
XR1200 Qualifying

Friday:
Motocentral arrived at the track this afternoon just in time to catch qualifying. The weather was clear and sunny but windy. The gust picked up as the afternoon progressed causing huge head winds down the main straight.
Superbike Qualifying 1 results.
Sportbike Quilifying 1 results.
MotoGP - Indianapolis August 27-29, 2010
Sunday:
Weather: hot, a whole bunch of MotoGP fans: enjoying the day, great racing: priceless. The is some sadness however.
Peter Lenz of the USGPRU, MD250 series past away from traumatic injuries suffered from a crash during the warm-up lap for the series second race of the weekend. This incident was eerily like the one that took Red Bull Rookie Cup rider Toriano Wilson's life at VIR in 2008, Lenz was apparently trying to get off the track when he was struck by another rider.
In a released statement from USGPRU, Peter Lenz's family said, "Peter Lenz passed away this morning from injuries sustained from a racing accident. On behalf of the Lenz family, we would like to thank Peter's friends and supporters for all their help throughout the years. We are deeply saddened by this tragic loss, but know that Peter is racing even faster in the sky. Our thoughts and prayers are now with the other racer and his family, who were also involved in this tragedy.

Pedrosa takes the win in MotoGP with Spies position two and Lorenzo position three. Nicky Hayden position six and Edwards DNF'd. My guy Hector Barbera had another top ten finish.

Moto2:
Toni Elias takes the win. Americans Jason Di Salvo finished 9th, Roger Lee Hayden finished 17th and Kenny Noyes finished 19th.
125s:
Nicolas Terol took the win. Sandro Cortese placed second and Pol Espargaro placed third.
Saturday:

Ben Spies takes pole, Lorenzo position two and Nicky Hayden position three.
The thermometer started on the rise today but it is better then rain.
Images of the day:

Friday:
Wonderful weather. You could not ask for a better day.
Images of the day:

Indy MotoGP Image Gallery
AHRMA - Road America Motorcycle Classic June 11-13, 2010
Sunday:
The morning started foggy and damp again. The day was mostly cloudy with very brief peaks at the sun. It was another great day regardless of the weather. The monkey and driver of the only sidecar entry celebrate their win.

Saturday:
It was misty in the morning, making for a damp track for the morning practices. Skies remained overcast but no rain until evening. There were no serious incidents and the racing did not disappoint. Good racing and great people, what more can you ask for.
Friday:
The day started with heavy rains in the morning, truely placing a dampener on practice time. The rain finally stopped allowing the AHRMA racers to get in some practice.

AHRMA Road America Gallery
AMA Pro Superbike at Road America - June 4-6, 2010
Sunday:
There were just a few very brief sprinkles around in between races. The heavier rains stayed away until all the races were complete. The electric bikes were weird to watch but I must say Michael Barnes had that electric motor humming right along at a pretty good pace. He did win the TTXGP race. The debute of the XR1200 class was interesting. This race started after the lunch break for two laps but did not finish until the end of the day. One of those big V-Twins blew its engine around turn three and then dumped what seemed like its full oil compliment in turn five. What a mess!

XR1200 results:

1 9 Danny Eslick
2 3 Jake Holden
3 77 Eric Stump
4 33 Kyle Wyman
5 24 Travis Wyman
6 7 Shawn Conrad
7 22 Joseph Rozynski
8 72 Aaron Frank
9 37 John Ashmead
10 70 Paul James

American Superbikes Race Two results:

1 22 Tommy Hayden
2 4 Josh Hayes
3 54 Jake Zemke
4 72 Larry Pegram
5 3 Jake Holden
6 155 Ben Bostrom
7 79 Blake Young
8 23 Brett McCormick
9 18 Chris Ulrich
10 99 Geoff May
11 7 Shane Narbonne
12 48 Chris Clark
13 975 Ron Hix
14 12 Trent Gibson
15 9 Eric Haugo
16 71 Tim Hunt
17 2 Eric Pinson
18 44 Taylor Knapp

Daytona Sportbike Race Two results:

1 36 Martin Cardenas
3 15 Steve Rapp
4 57 Cory West
5 2 Dane Westby
6 54 P. J. Jacobsen
7 1 Danny Eslick
8 4 Clinton Seller
9 55 Chris Fillmore
10 30 Bobby Fong
11 7 Fernando Amantini
12 139 Lenny Hale
13 60 Michael Beck
14 111 Marcos Reichert
15 27 Dominic Jones
16 811 Michael Morgan
17 32 Santiago Villa
18 13 Melissa Paris
19 83 Marie-Josee Boucher
20 175 Sam Rozynski
21 371 Jimmy Wood
22 231 Shawn Hill
23 6 Tommy Aquino
24 210 Paul Allison
25 38 Kris Turner
26 78 Reese Wacker
27 70 Paul James
28 20(57) Calvin Martinez

Supersport Race Two results:

1 75 Huntley Nash
2 73 J. D. Beach
3 12 Tomas Puerta
4 72 Miles Thornton
5 17(58) James Rispoli
6 16 Cameron Beaubier
7 700 David Gaviria
8 97 Nicholas Hansen
9 82 Daniel Guevara
10 28 Ryan Kerr
11 52 Michael Corbino
12 69 Kyle Keesee
13 414 Charles Burton, IV
14 77 Eric Stump
15 21 Elena Myers
16 25 Joey Pascarella
Elena Myers started strong once again but Canada Corner got her once more.
Saturday:
The rain held off until race one of the Daytona Sportbikes. It looked like it was starting to get pretty slick from my vantage point on the inside of turn 6 in the few final laps. All in all a great day.
American Superbikes Race One results:

1 Josh Hayes
2 Tommy Hayden
3 Blake Young
4 Larry Pegram
5 Jake Zemke
6 Jake Holden
7 Ben Bostrom
8 Taylor Knapp
9 Brett McCormick
10 Chris Ulrich
11 Geoff May

It was a barn burner of a finish for Hayes and Hayden. The Margin of victory was listed at 0.00 with third position being eight seconds back.
Daytona Sportbike Race One results:

1 Josh Herrin
2 Steve Rapp
3 Kris Turner
4 Clinton Seller
5 Danny Eslick
6 P. J. Jacobsen
7 Fernando Amantini
8 Kris Turner
9 Dane Westby
10 Jimmy Wood

Supersport Race One results:

1 73 J. D. Beach
2 12 Tomas Puerta
3 17 James Rispoli
4 72 Miles Thornton
5 700 David Gaviria
6 77 Eric Stump
7 97 Nicholas Hansen
8 82 Daniel Guevara
9 28 Ryan Kerr
10 69 Kyle Keesee
11 52 Michael Corbino
12 414 Charles Burton, IV
13 75 Huntley Nash
14 16 Cameron Beaubier
15 25 Joey Pascarella
16 21 Elena Myers
Elena Myers qualified very well and looked like she would be up in the front of the pack. However, she went off in turn 12, "Canada Corner" on lap 2.
Friday:
The weather today was comfortable with a mixture of sun and cloads in the afternoon. Teams did have backup bikes fitted with rain tires.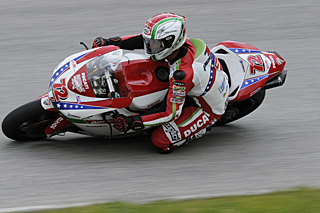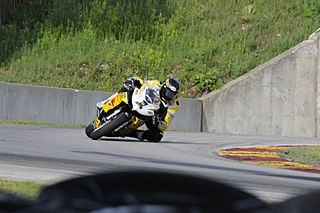 The new XR1200 series and the TTXGP Electric Race Bike Series took the track today as well. The electric bikes are very quiet. You actually had to watch for them.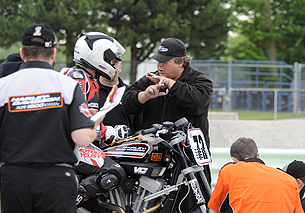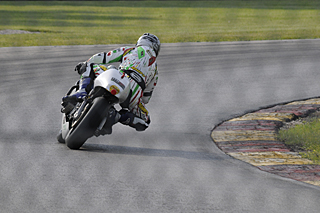 Indy MotoGP - August 28th - 30th, 2009
Sunday: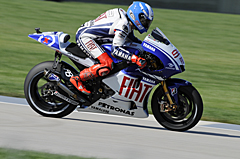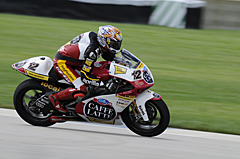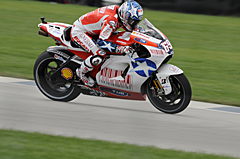 The weather was perfect with a good mixture of sun and cloads. The big news, no rain!
Pedrosa grabbed the early lead from the line only to crash and end up at the back of the pack. Rossi and Lorenzo battled for a few laps until Rossi also crash. He took a few laps before he was called in and did not finish the race. Nicky Hayden made the podium taking third place. Andrea Dovizioso made Hayden work for the last podium spot. Collin Edwards finished fifth.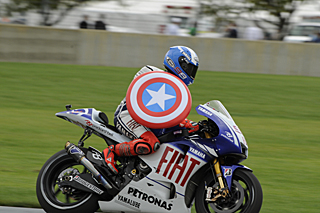 Jorge Lorenzo wins the Indy MotoGP. Not only did Lorenzo climb the fence on the main straight, much like Tony Stewart, he also took his victory lap with his Captain America shield.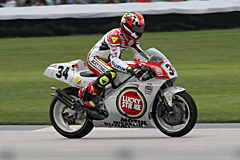 1993 World Champion Kevin Schwantz did a few laps on his Lucky Strike-liveried Suzuki 500cc machine. It was very exciting to see Schwantz ride his championship machine again.
Saturday: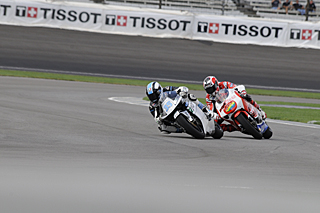 The weather was much better today. The riders were able to practice and qualify under dry condition. Dani Pedroza did manage to break into the 1:39's taking pole.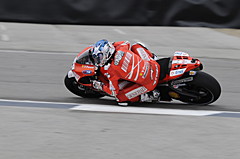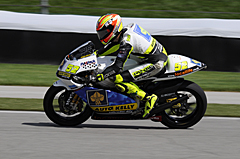 Dani Pedrosa 1:39.730
Jorge Lorenzo 1:40.236
Valentino Rossi 1:40.609
Alex De Angelis 1:40.620
Colin Edwards II 1:40.961
Nicky Hayden 1:41.067
Tony Elias 1:41.283
Andrea Dovizioso 1:41.309
Marco Melandri 1:41.530
James Toseland 1:41.620
Loris Capirossi 1:41.742
Randy De Puniet 1:41.773
Niccolo Canepa 1:41.910
Chris Vermeulen 1:42.038
Mika Kallio 1:42.250
Alex Espargaro 1:42.577
Gabor Talmacsi 1:42.736
Friday: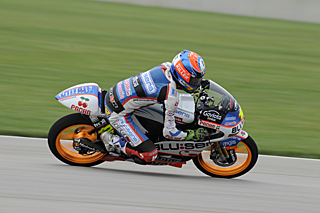 Rain again for the 2nd running of the Indy MotoGP. I'm beginning to think it wouldn't be Indy without rain. The morning started out sunny and humid but during the final minutes of the 125 free practice the rain started. The MotoGP gang as well as the 250's practiced in the rain.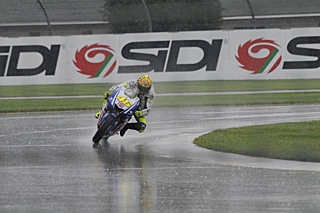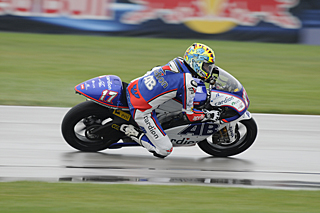 Updates and News
We've recently updated several entries on the Photos Page (see the menu link above). There are photos of the Women on Wheels event at the Kane County Cougars baseball game, shots from the June AHRMA races at Road America, and a gallery from the Total Control Advanced Riding Clinic Level 2 class that took place early this month (August).
Photo Information
If you are interested in purchasing any of our photos or if you would like more information on a photo, please email us at mcphotos >at< motocentral >dot< com. Please remember that our photos come with full rights for non-commercial use. That means if you want to send pictures to all your friends you don't have to buy multiple copies of the same photo -- you can just purchase one and copy or print it as many times as needed. All we ask is that you credit us for the photo in some way.
Of course, if you want to use one of our photos on a commercial website or for any commercial purpose, you need to contact us to make arrangements.
AMA Suzuki Doubleheader at Road America June 6 & 7, 2009
Sunday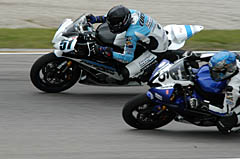 The day started with overcast skies and a chill in the air. Thankfully conditions did improve as the day went on. The temperature did get into the low 50's with occasional peeks of sun. Race 2 of Daytona Sportbike ran to completation without the Safety Car. Thank the motorcycle gods. American Superbike race 2 did not disappoint either. It is the first time in a long time that I have seen Mladin beaten by someone other then Spies, a mechanical or a crash. Sorry Josh (Hayes #4), but Mladin's bike in race 1 at Infineon was fresh out of the box. We couldn't be happier that Larry Pegram won race 2. This is the first race he has won in at least 10 years.
The track announcers did promote the AHRMA races set to take place this coming weekend at Road America, June 12 - 14, 2009. They also made an annoucement on the behalf of SPEEDtv. SPEED will be returning to satalite delay same day coverage of the AMA Pro Racing Series. SPEED listen to the complaints of their viewers and switch back to the format we all know and prefer. We are very happy to see SPEED change their minds, because I just didn't watch the prime time segement. Why, should anyone. The races were at least two weeks old and you knew who won.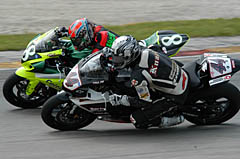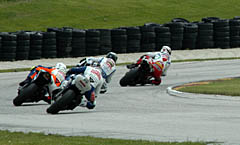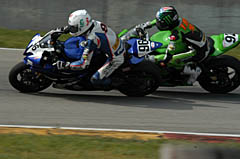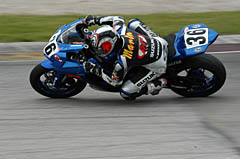 Daytona Sportbike Race 2 results:
Martin Cardenas
Jake Zemke
Jason DiSalvo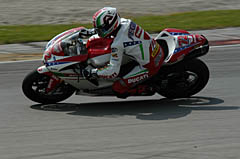 American Superbike Race 2 results:
Larry Pegram
Mat Mladin
Aaron Yates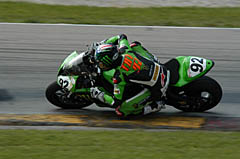 Supersport results:
Leandro Mercado
Ricky Parker
oshua Day
Saturday
Theme for the day: cold and rainy. Yes, the average temperature 46 degrees and light to moderate rain in the afternoon. Today remineded me of when this race was run in May years ago. All races were run but in MotoGT and Daytona Sportbike it seemed to be a crash fest. I lost count how many times the Safety Car came out. Is this NASCAR?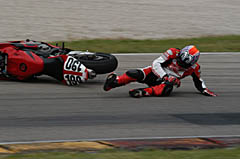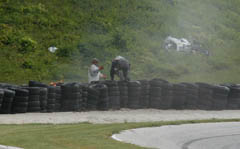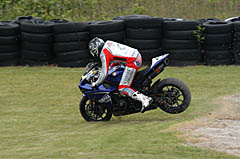 In the center picture the tires are on fire.
American Superbike Race 1 results: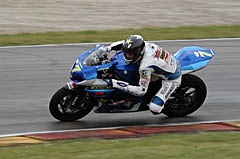 Mat Mladin
Michael Laverty
Ben Bostrom
Daytona Sportbike Race 1 results: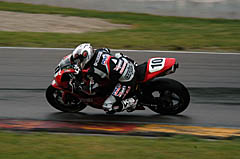 Chris Peris
Roger Hayden
Martin Cardenas
Contact Info
You can contact us by sending email to motocentral _at_ motocentral _dot_ com.